Ross went out to Sleigh Pastoral Co.'s property "Kooringal", Jerilderie, home to Andrew and Julie Sleigh, to class their 14 month old ewes. He arrived there at 8 o'clock, the frost was just disappearing off the ground! There in front of him was 2350 young ewes, as far as the eye could see, a daunting task. He said to himself "I have to handle every one of these ewes".
They were classed, drafted and sent back to their paddocks by 4:30. Thanks to a fantastic set up which included a double race and he was able to be classing non-stop. Sam, Andrew's son was on the drafting gate as Andrew kept things going, filling the races up. They were ably assisted by a very nice strong Irish backpacker who had the raddle and made sure the ewes were standing for Ross. This lad was off a sheep farm in Ireland, 50 odd black face ewes and he showed great interest in the classing process.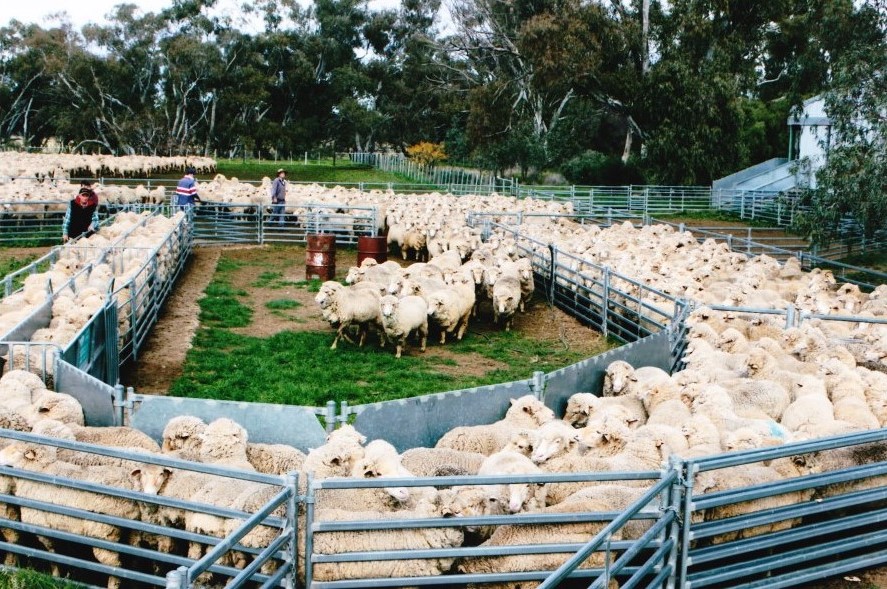 The sheep reflected the good season last year and a good season so far this year. They were very well grown and displayed heavy cutting wool qualities as the Sleigh's sheep are renowned for. The Sleigh's have been buying their rams from Willandra since 1983 and they are showing the benefit. Results of the Peter Westblade Merino Challenge confirm that "Willandra" sheep are productive, profitable bloodlines in all respects.
Sleigh's have very good lambing percentages, 120-125%, so they are able to cull heavily. This year Sleigh Pastoral Co. will be selling 1000 surplus young ewes and more older ewes at the "John Wells Memorial" off-shears sale in October. Andrew and Julie have topped this sale 7 times in the last 14 years!
Ross says that genetics certainly have something to do with the quality but also says you can't ignore the large part played by management, sheep sense and marketing. Willandra Merinos will also have around 400 young ewes and 400  5 ½ year old ewes at the same sale. These too show the benefits of management and an excellent season.
This sale is a great market to come to, quality Riverina sheep abound!